T

ower Studios Announces "You Film It!" Wedding Video Package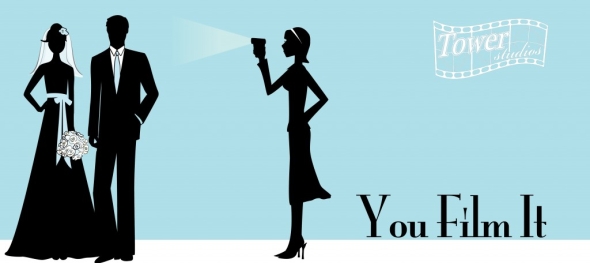 April 17, 2012
Tower Studios
6049 Mid Rivers Mall Drive
Suite 150
St. Charles, MO 63304
Tower Studios is excited to announce its newest videography package, "You Film It".
The "You Film It" package is designed to let clients film their own wedding, or have a friend/family member run the camera. After the wedding is over, the cameras get mailed back to Tower Studios, where the Tower Studios Team puts together a fun, 'TV Show' style edit of the footage collected.
The "You Film It" service offers a unique perspective of the wedding day. "Often, members of the bridal party and guests get nervous when they see a professional operating a camera," explains Andrew Kleewein, President of Tower Studios. "When a friend or family member is using the camera, guests are much more likely to relax, smile, and speak from the heart. We can then edit that footage into a moving, emotional video."
A "You Film It" kit will include a camera (with charger and extra battery), a wireless microphone, a tripod, and an LED light panel for low light conditions. The equipment can be checked out for 5-day periods, and will be shipped directly to the bride and groom, with a pre-paid return-shipping label included.
The price for the "You Film It" wedding package is $1,250, and has an expected release date of late April 2012.
Find out more about Tower Studios' Wedding Video Packages!
About Tower Studios
Tower Studios is a video and photo production company specializing in wedding and event videography. For more information about Tower Studios, please visit the company website at www.towervideophoto.com, or call 314-932-2440.
Press Contact
Andrew Kleewein
314-932-2440
info@towervideophoto.com