Highlights vs. Documentary: Pros and Cons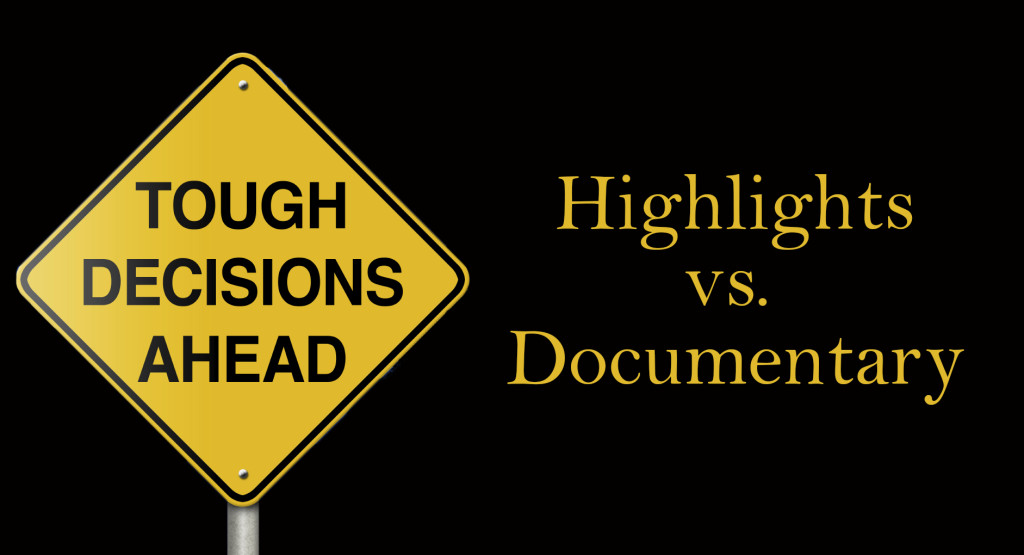 Okay…so you've chosen the videographer, but what style of video is the best?  What's a highlight video and what does documentary mean?  Aargh!  How will I ever choose?!  Never fear, I am here to explain our styles and lay out the pros and cons for an easier decision making process. Yay! 🙂
The highlights video captures more of the main points and emotions of the day.  It will be a shorter video than the documentary (good for people with short attentions spans like myself Ha!), but has more of an artistic aspect to it.  It is edited to a song or songs of your choice picked from songfreedom.com .
The documentary style is a complete edit of all main events in their entirety.  It will include the entire ceremony, bridal party entrances, toasts, dances, cake cutting,  etc.  This style is great for recapping a day that goes by so quickly. However, the documentary style might not be the most optimal style to watch over and over again as compared to the highlights videos.
If you're still not sure which style of video to pick, there is always the option of choosing both with our FairyTale and All Inclusive packages.